Exhibitions give you a unique opportunity to increase customer awareness and meet potential prospects.
With the right design, even the smallest stand can make a big difference.
You don't want to be just another company amongst the ranks of competitors. You want to stand out from the crowd with a great design.
Whether it's wall designs, roller banners, pop-up displays or other exhibition elements, consumers expect a professional design.
Your target audience can pick up even the slightest design flaws and mistakes. An unprofessional first impression will discourage them from ever stopping at your stand.
A professional designer will ensure that the designs in your space attract your audience.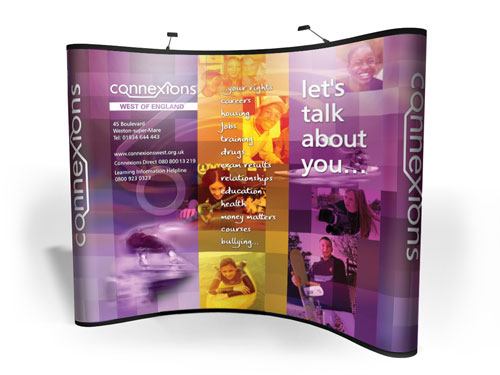 Consumers know the difference between a professional, well-designed stand and one that was thrown together the week before…
Simply leasing a space at an exhibition won't necessarily help you achieve your goals.
Your stand should utilise designs that remain consistent with your company's image and attract attention from your target audience. In a show filled with other competitive options, your consumers need a reason to choose your stand over the others. Eye-catching design helps you reach out to your audience to gain more sales opportunities.
It's crucial that your designs are consistent with your company's style or brand.
Your overall corporate image is essential to the growth of your company, and inconsistencies across marketing efforts will damage its value. It is best to use the same designer or design firm that you work with on other marketing platforms to create your exhibition designs and graphics.
Shell stand designs

Pop-up stands

Roller banners

Signage
I have worked with Carn Gerrish Creative over a number of years and have found them to be extremely helpful, creative, understanding and technically highly skilled.

As a team they always make sure that designs are as you want them and if you need any advice they are always there to guide and support you.

They are also really nice people and I thoroughly recommended them as a creative team for any marketing project.
Make sure you get the most from your exhibition space by contacting us at 
info@carngerrish.co.uk
 or call us on
 01275 821 173